Non-interactive films
| | |
| --- | --- |
| These special packaging materials preserve intended potency of contents by minimizing sorption to the contact surface. Non-interactive (NI) materials are the key for making this happen. | Certain applications with highly diluted active ingredients, such as parenterals, are prime candidates. |
Interaction of contents and contact surface
When changing dosage form from glass containers like vials and ampoules to a plastic premixed bag, the chief concern is interaction.
This is an unavoidable challenge, and understanding the interaction mechanism between contents and packaging, including the manufacturing process is extremely important.


Leachables
Polyolefin oligomers, residual solvents, various additives, adhesives, and active ingredients volatilized from ink may elute from packaging materials.
These leachables cause drug contents to become unstable and break down through various chemical reactions.
Olefin bags cannot prevent leachables from migrating into solution over time.
Our work to select and develop material which prevents sorption and leachables is extremely important.
Through completing this NI material, we have created a flexible, glass-like material which meets the needs for sensitive drugs in liquid dosage form.
How our MediTect™ IV bag solves sorption
Our NI material prevents sorption of active ingredients to the contact surface, and maintains glass-like stability for liquid contents
Potency over time in premixed bags
Performance data shows that our MediTect™ bags maintain active ingredients of drug solution over time in step with glass vial controls

The data points above are not guaranteed values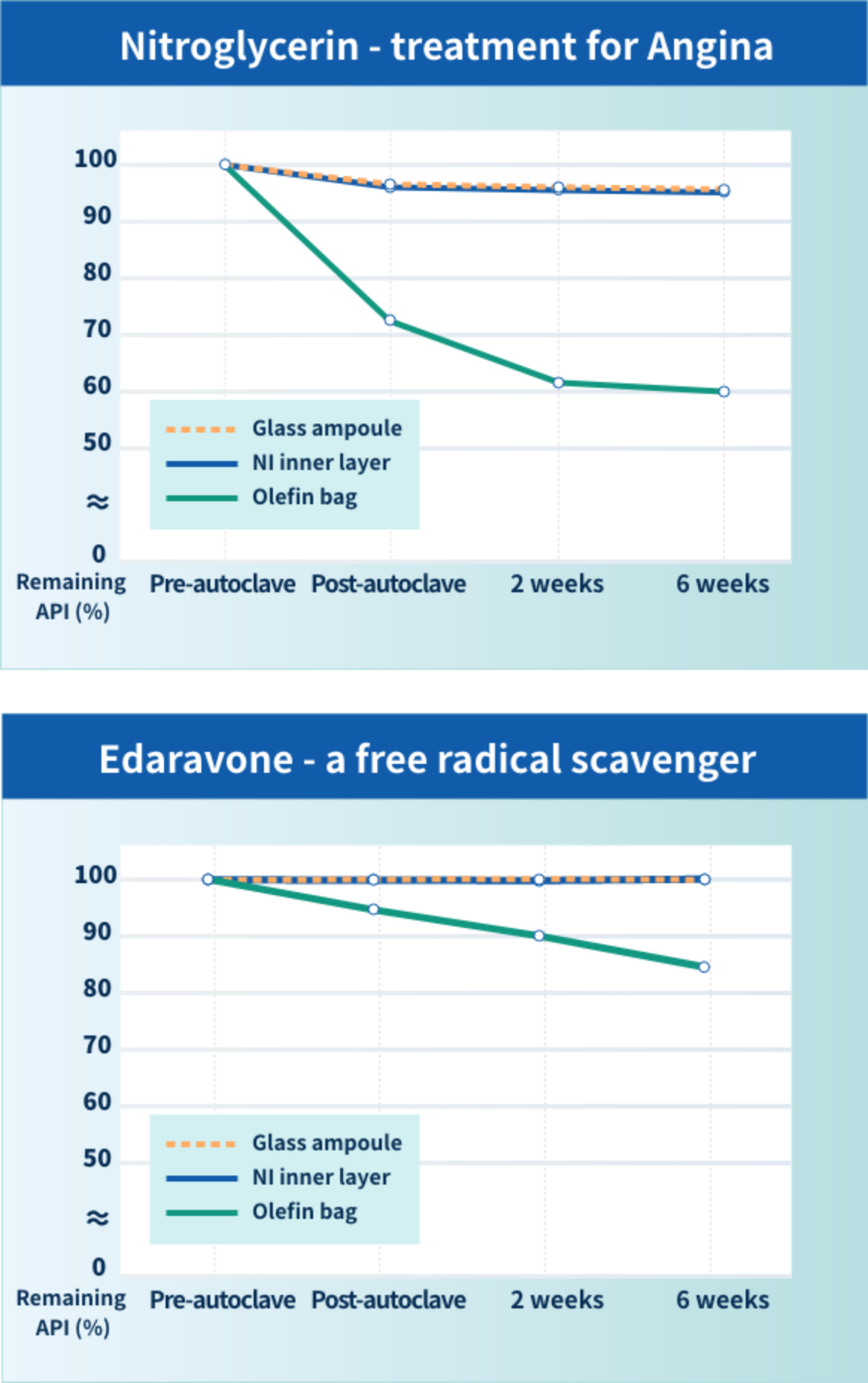 The data points above are not guaranteed values
We would like to hear from you!
Even if we use materials to prevent interaction, depending on the
chemical structure of the drug contents, we may need to create a
custom multilayer solution to realize the shelf-life you are looking for
Please contact us to learn more